My Sculpture Garden Grows
To be precise my garden is currently two flower pots, but as any other Oval Maidan (Mumbai) or Central Park (NY) facing resident would say - the entire park is my garden! Somnath Hore can be tricky as his sculptures are rare. He falls into the category of serious artists who pursued their passion with little thought to commercialization and created many versions for sale. In fact, his respiratory problems which ultimately caused his death were likely created by the casting environment.

Somnath Hore
My first stop in pursuit of a Somnath was, of course, a gallery in Kolkata - who put me in touch with Chandana, Somnath's daughter and an artist by her own right. Apparently, this was one of the handfuls of Rabindranath Tagore's cast by Somnath. A couple more below:
To add to the intrigue, there were all these reports of incorrect works from leftover casts apparently. The newspaper report is partly replicated below."A week after the opening, the wife and daughter of Hore, who died last year, say many, if not all, of the pieces are fakes. The original of at least one, his daughter said, is in her possession in Santiniketan. "We are sure the sculptures are not real," said Chandana Hore."
There were some t's to cross and some I's to dot. I needed to see some other works of Somnath for study, and further conviction - the chance to inspect a few of his genuine works in reference collections and the "impossible to obtain" CIMA publication and the equally hard LKA publication was of immense help.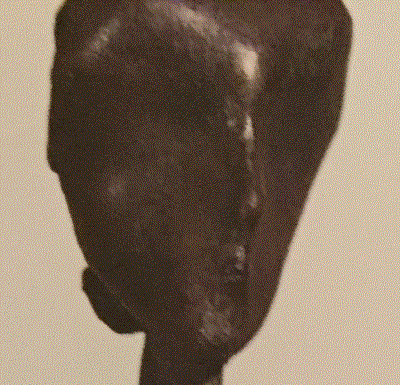 Finally after a physical inspection of the dubious works, whose images I have decided not to put up as they were shown to me in confidence. Finally, after months, I was ready to make the purchase.
Headed back to Kolkata but found that the work has just been consigned to an auction house, I gave him the Bengali version of "How Could You" and headed back to Mumbai disgusted with myself and all the possibly unnecessary checks. I should have bought the work immediately after having discussed it (and completed the provenance checks) with Chandana many months ago.
Anyway, all's well that ends well. I was able to buy the work at auction. I had to because too much time had been invested in researching it!
Meera Mukherjee


 

My search for Meera Mukherjee actually started at an old gallery in Flora Fountain. After some discussion there, I had made some notes on a piece of paper that I carried safely with me for at least a couple of years. A few good Meera's did come up at auction - Mother & Child, Children playing under a tree which were all very nice but I was getting a bit sick of this mother and child theme and was looking for something powerful (something like Lady Godiva). Anyway, after a lot of reading, I identified Meera Mukherjee's Benaras Ghats as a work that I would have loved to acquire.
Then, this Durga came up at Pundoles and I just had to snap it up. Interestingly there is a catalogue raisonne of sorts for Meera and this work is listed there as 1996 and most likely was a commissioned work as per another source.   


Himmat Shah
I had met Himmat Shah at a gallery viewing in Delhi. I subsequently acquired his new book "Terracotta", the book itself will give you some pause about how meticulous the artist can be. Subsequently, there was the Kiran Nadar Museum of Art exhibition on the artist which was an outstanding one! His drawings are something I still covet and I need to get around to picking up a few.  


Apparently there are very few bronzes cast prior to 2006. These earlier works (mostly from his Garhi studio) were made in editions of 9+AP or 7+AP.  In 2006, he casted another 40 works in an edition of 5+ AP - and so there may be three hundred or so bronzes in total.
The sculpture is inspired from Brancusi's famous Kiss.  


Bakre
Sadanand Bakre was one of the founding members of the  Progressive Artists Group and the only sculpture artist in the group. He moved to London in 1951, and soon after he abandoned sculpture so these are quite rare. There are very few of them - my guess would be less than twenty in all - and at least one of the very large bronze heads is with the NGMA which is the more traditional form of sculpture.
The "spikey" modern sculptures are well documented in Yashodhara Dalmia's book on Progressive Artists Group. Some of his later canvases are in fact renderings of these sculptures.  For example: "Thames," by Sadanand Bakre, is a beautiful and luminous, cubist inspired portrayal of this famous river.  

Indrajit Chatterjee