Zainul Abedin: Bengal Famine
The Bengal Famine of 1943 -1944 ruined the lives of over three million people undivided India during WWII. The British allowed a diversion of food resources and drained the economy due to wartime industrial production. With the threat of a Japanese attack on Burma, the British carried out a boat denial and scorch plan that resulted in mass starvation. Zainul Abedin, who was born in undivided India witnessed the famine first hand. His sketches were made with his own ink by burning charcoal and used it on cheap, ordinary packing paper. He depicted starving, skeletal figures who were dying on the streets. These works became iconic images and helped Abedin find his way in a realistic approach that focused on human suffering, struggle, and protest.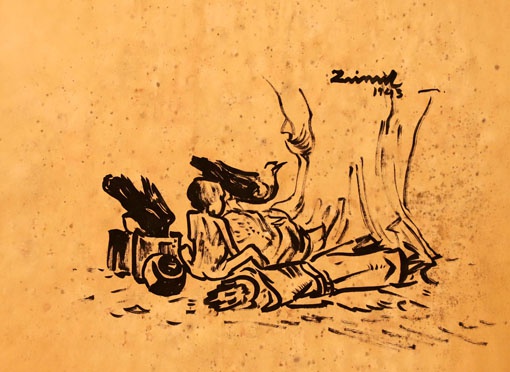 Zainul Abedin (1917 - 1976)
Untitled (Famine series)
Ink on paper
1943
7 x 8 in.
Estimate: 1,00,000 - 2,00,000 INR
Provenance: Dhoomimal art gallery
Comparison:
Two Untitled Works
1957
Watercolor/paper
Signed dated "Zainul / 1.9.57" lower right
Hammer price: $ 28,000
Sotheby's, 19 Mar 2014
New York NY, United States
Modern & Contemporary South Asian Art

Lot no. 12 coming up in Prinseps Spring Auction 224 - 25 April 2019