Maqbool Fida Husain was born in 1913 in Pandharpur, Maharashtra. In 1948, he was invited by F N Souza to join the Progressive Artists' Group in Mumbai. When he took up painting as an art form, he blended folk, tribal, and mythological art to create vibrantly contemporary, living art forms.
Husain often juxtaposed man and horse in a dynamic and entwined composition; his horses are strong and dynamic in movement and tend to overpower the human figures in the same work. Some of his important works can be seen here.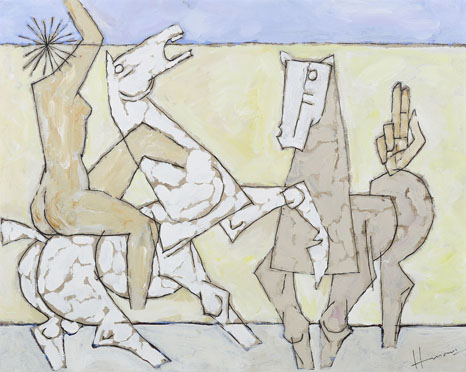 M.F. Husain (1915 - 2011)
Horses
Circa 1990s
Acrylic on canvas
33 x 42 in.
Signed lower right
Estimate: 70,00,000 - 90,00,000 INR
Provenance: Private Collection
Spring Auction 24 - 25 2019