Bhanu Athaiya achieved a lot over a period of six decades - the only woman member of the Progressive Artists Group and the first Indian to win an Oscar.
When Bhanu entered the City of Dreams
Bhanu Athaiya's path to glory had its own set of hurdles. After recognizing her ardent love for art, Shashikore Chavan, Bhanu's mentor, took her to the renowned Sir J.J. School of Art to meet Professor Bhonsle. However, admissions were closed for the year, and she missed the deadline. Bhonsle suggested that Bhanu enroll in a private art institute called Nutan Kala Mandir in Bombay to prepare for J.J. School's entrance exam. He was her mentor, and Bhanu often approached him for advice. Bhanu Rajopadhye made art an after school activity. Something she would delve deep into and find solace in after a long day. Chavan wanted her to nurture this hobby into a passion. He was impressed with the skills she had acquired at such a young age and encouraged her to pursue Fine Arts.
Bhanu did not have relatives in Bombay and hence was staying in Khar with Hima Devi, a theatre actress. Hima was Annasaheb Rajopadhye's acquaintance. She would often bump into the father-daughter duo while attending plays in Kolhapur. It was there that Bhanu met Hima Devi. As Bhanu began to pursue her passion, classes would breathe life into Bhanu's quiet afternoons. Hima suggested that Bhanu make use of her spare time as well. She introduced Bhanu to her mother, Meera Devi, who was an Assistant Editor at a women's magazine called Fashion & Beauty. Since most of her works were figurative and displayed her intricate understanding of the contours of the human body, Editor Kishen Jhangiani asked her to illustrate for the magazine.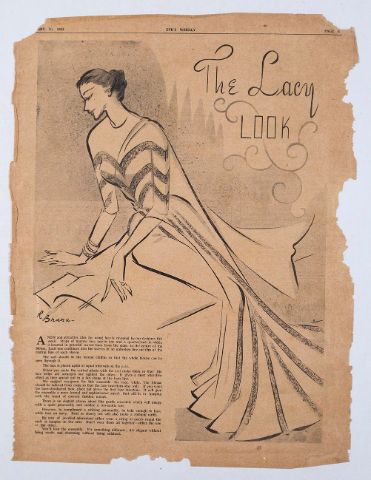 The Lacy Look, Bhanu Athaiya, Eve's Weekly 1953
Soon enough, Bhanu moved on to Eve's Weekly. She would regularly cover two pages of the Saturday magazine. Her distinctive and detailed fashion illustrations soon became well known. She also contributed to the Independence Day issue on 15 August 1947. Bhanu had made an illustration of Mahatma Gandhi and his wife Kasturba with a fluttering Indian flag that stood tall and proud. While making illustrations for magazines, she was simultaneously getting her degree from the Sir J.J. School of Art. In 1953, Bhanu Rajopadhye graduated with a gold medal and a fellowship.
The Progressive Artists' Group
The Progressive Artists' Group was born in Bombay on 15 December 1947. The three core members included Francis Newton Souza, Krishnaji Howlaji Ara, and Syed Haider Raza. Each key member could invite an artist to join the Group. Souza invited Maqbool Fida Husain, Ara asked Sadanand Bakre and Raza invited Hari Ambadas Gade. Their first exhibition was held at the Bombay Art Society in 1949, while the second was in Calcutta in 1950. The founders would often discuss how the birth of new India led them to set new standards of art in the country and reestablish Indian Modernism.
Souza and Raza left for London to study Contemporary Art in 1949 and 1950. Bakre also left the Group soon after, leaving Ara, Husain, and Gade to carry on the Group's activities in Bombay. In 1953, the Progressive Artists' Group saw several new members. They included Akbar Padamsee, Tyeb Mehta, Krishen Khanna, Vasudeo Gaitonde, Ram Kumar, Mohan Samant, Nowshir Chapgar, G. M. Hazarnis, A. A Raiba, and Bhanu Rajopadhye. The members of the Group reflected the country's diverse range of social, economic, and linguistic backgrounds. The Group ultimately disbanded in 1956.
After Bhanu Rajopadhye graduated in 1953, she joined the Progressives for their third show. She was the only female member of the Group. While she was studying at the J.J. School, Gaitonde served as her mentor. Although Gaitonde is one of India's most important modern abstract painters, he also dabbled in figuration during his early career. "The human figure was still present in Gaitonde's geometrical works of the early 1950s, and it was not until 1957 that he abandoned figuration altogether, which he considered a distraction from color." [1]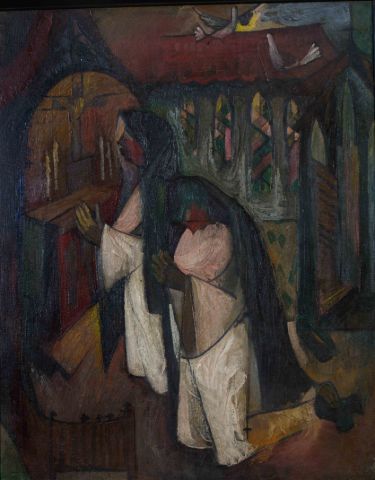 Prayers, Bhanu Athaiya, Circa 1950
Two of Bhanu Rajopadhye's artworks are included in the 1953 Progressive Artists' Group show in Bombay. While most of Bhanu's works from the period can are Figurative, there is an avant-garde Lady In Repose (1951) that verges on the abstract.
1953 Progressive Artists' Group Exhibition Catalogue
When Bhanu found her true calling...
Bhanu Rajopadhye used her training at J.J. School to make figurative paintings and drawings. A field trip to the Ajanta and Ellora Caves brought to light her intense fascination with the human body and its clothing. Fellow artists advised Bhanu to continue her journey in the art world. But with her ardent love for human anatomy and apparel, she wanted to step into the fashion designing industry. Her Editor at the magazine she worked for often received requests from clients for clothing designs. Bhanu was often commissioned to make custom outfits for prominent personalities.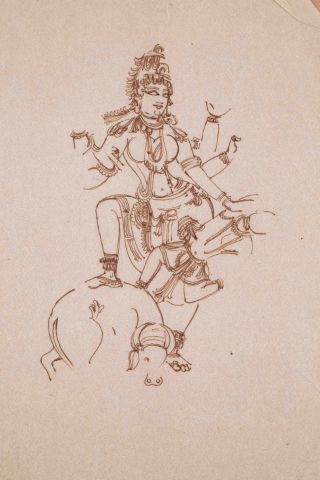 (Goddess Lakshmi on a cow), Bhanu Athaiya, Circa 1950
Bhanu's uprising as the revered veteran of costume designing only became more noticeable with time. Many filmmakers such as B.R Chopra, Ramanand Sagar, and Yash Chopra visited the boutique run by Bhanu to give her a considerable amount of costume design work. As a result, she had to decide between fashion and costume design. Bhanu chose the latter since it promised a wider scope and ample opportunity to be creative and innovative. Unlike fashion design, which was all about cut and style, costume design demanded the creation of a certain aura and atmosphere. Costume design would often require contextual research to add to the authenticity of the film. Bhanu had found her true calling and was ready to dive in. Bhanu Athaiya soon made history by getting India its first Oscar in 1983 for Best Costume Design for Lord Richard Attenborough's Gandhi at the Dorothy Chandler Pavilion in Los Angeles at the 55th annual Academy Awards.
References
[1] "Vasudeo S Gaitonde's Influence and Legacy", Sotheby's, 15 November 2019
[2] "The Art of Costume Design", Bhanu Rajopadhye Athaiya, 15 February 2010
[3] "The Progressive Revolution: Art for a New India", Zehra Jumabhoy and Boon Hui Tan, 2018