Four Sculptures
At Prinseps' Modern and Contemporary Art Sale on November 17th, we find immense joy in presenting, from the late modern era, four exquisite works by four master craftsmen: Akbar Padamsee, Dhanraj Bhagat, Sankho Chaudhuri, and Amarnath Sehgal. 
Akbar Padamsee was born in Mumbai in 1928 and studied at Sir J.J. School of Art in Mumbai. Padamsee experimented with various mediums and genres in his career while maintaining his oeuvre and personal style. Padamsee conveyed his command over space, form and colour.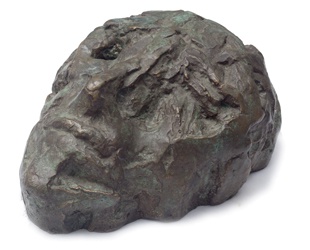 Akbar Padamsee (1928)
Untitled (Head)
Circa 200
Bronze, Casting II Edition 2/5
Signed and inscribed lower back
11 x 6.5 x 6 in.
Starting Bid: INR 10,00,000
Estimate: INR 12,00,000 - 15,00,000
The art work includes a certificate of authenticity by the artist.
Born in 1922 in Attock, Punjab, Amarnath Sehgal was first educated as an engineer in Lahore. However, he later turned to art and moved to Delhi after the Partition in 1947. He later studied art education at New York University in 1950. Most of his works have recurring themes of individual freedom and human dignity which is his response to political violence. This work being a superbly executed Ganesh from 1970.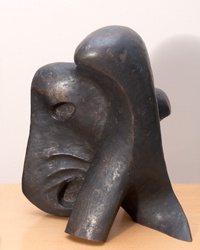 Amarnath Sehgal (1922 - 2007)
Untitled (Ganesha)
1970
Bronze, Edition 1/1
Signed and dated
14 x 12.5 x 9.5 in.
Starting Bid: INR 5,00,000
Estimate: INR 6,00,000 - 8,00,000
Born in 1917 in Lahore, Punjab, Dhanraj Bhagat graduated from Mayo College of Art. Dhanraj Bhagat and Ram Kinker Baij are considered to be the earliest of the modernists in Indian sculpture. Bhagat's early wooden sculptures have liquid, stream-like forms with smooth, elongated lines. His sculptures have a flat frontal aspect to them which he used to encourage the viewer to look at it from only one angle much like some of Bracusi's earlier works.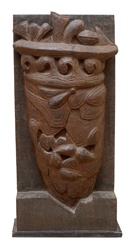 Dhanraj Bhagat (1917 - 1987)
Ling Raja
1970
Wood
23.5 x 11 x 5.5 in.
Starting Bid: INR 6,00,000
Estimate: INR 10,00,000 - 12,00,000
Born in 1916 in Bihar, Sankho Chaudhuri graduated from Santiniketan in 1939. At that time abstraction was a new style in sculpture and many sculptors leaned towards it. Chaudhuri's works, although made of an austere material had a sense of malleability, softness and rhythm to them. His works often depicted the female form or wildlife. Sankho Chaudhuri works were significant as it was a response to the tradition western academic style that was taught to artists at the time.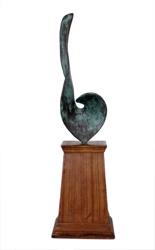 Sankho Chaudhuri (1916 - 2006)
Untitled (Bird)
Circa 1990s
Bronze
12 x 4 x 3 in.
Starting Bid: INR 2,50,000
Estimate: INR 3,00,000 -5,00,000
The art work includes a certificate of authenticity from the artist.
Prinseps' Modern Art and Contemporary Sale is now live for proxy bidding. Live bidding opens at 7 P.M. on November 17th. 
Tags